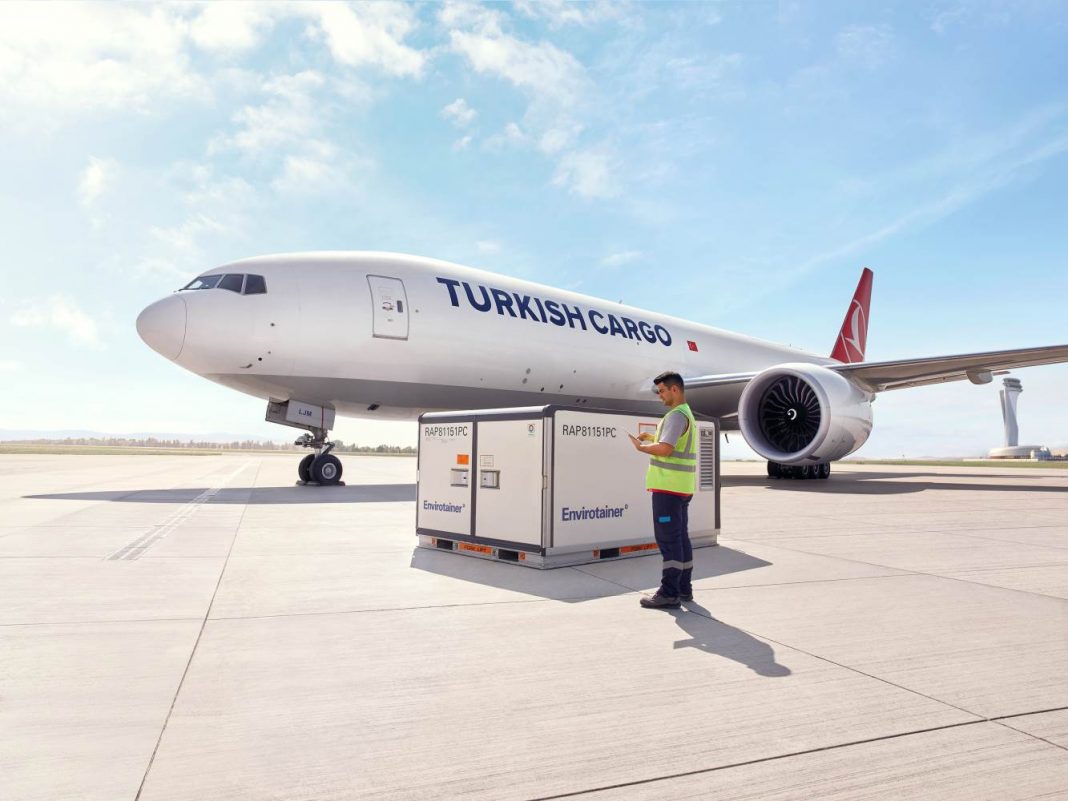 Pharmaceutical transportation requires an extra level of care and takes some special know-how to ensure products make it to their destination promptly without being damaged. Turkish Cargo, an airline with a high level of expertise in this field and certified by global aviation authorities, is helping to keep the world healthy by carrying pharmaceuticals between crucial destinations. In fact, Turkish Cargo now carries pharma freight worldwide with its highly successful pharmaceutical distribution network between over 300 destinations.
Arguably, transporting pharma payloads is more important than manufacturing them, as it enables these lifesaving medications to make it to where they are needed most. In many cases, pharmaceuticals are delicate and sensitive to temperature fluctuations, not to mention that they can also be expensive. As such, they require special precautions. Turkish Cargo understands the importance of maintaining pharma products' integrity and quality from the factory to the point of delivery and recognizes that temperature regulation is crucial. The airline also knows when carrying these valuable payloads, time is of the essence.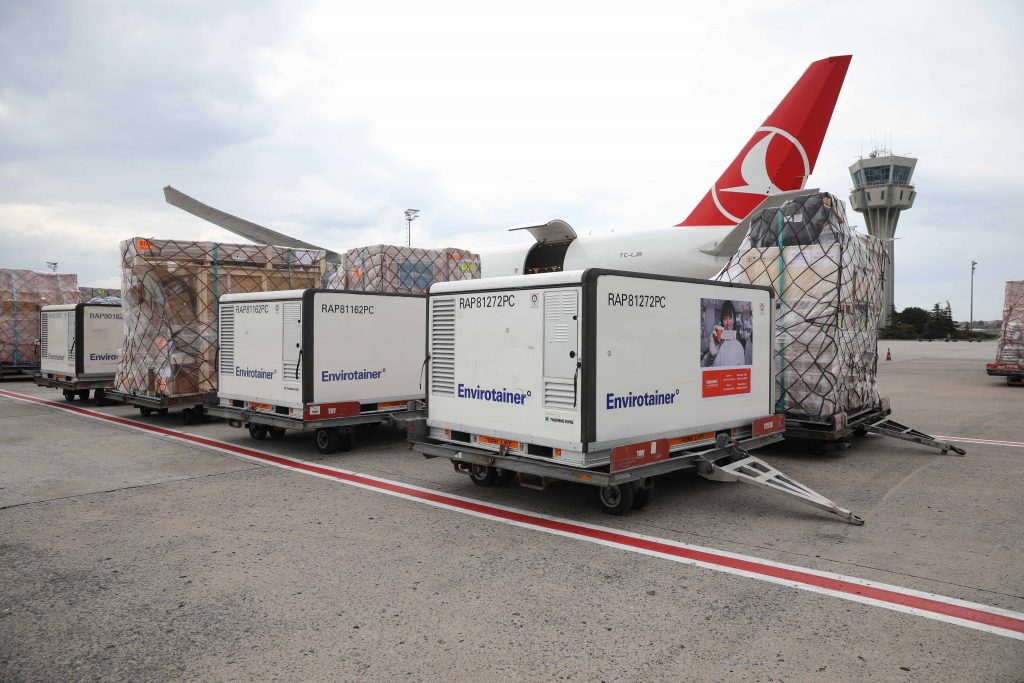 The Cold Chain: Temperature-sensitive Cargo
Cold supply chain logistics refers to all aspects of the supply chain, including transportation, storing, and distributing refrigerated and frozen goods. There are several steps in the cold chain logistics process, and there are two methods of cold chain transportation; active and passive. An active cold chain means having built-in cooling units designed to keep the entire cargo area's temperature consistent. Passive cold chain refers to polystyrene packaging with ice or dry ice to keep the products cold. However, the latter often presents a problem with temperature-sensitive products like pharmaceuticals, as it could allow the products to get too hot, too cold, or even freeze, thus damaging them during transport. Thus, passive solutions are typically employed only as a secondary line of defence when dealing with time and temperature-sensitive pharmaceuticals.
Turkish Cargo knows that when it comes to moving pharmaceuticals, temperature control is the top priority. A slight change in temperature, even of just 2 degrees, can ruin pharma products, so it is imperative not to break the cold chain.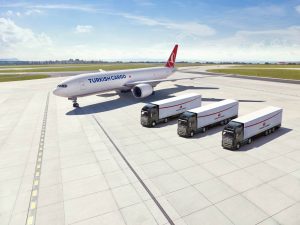 While maintaining its successful dual hub operations at Atatürk Airport (ISL) and Istanbul Airport (IST), Turkish Cargo carries out land transportation with a road-feeder corridor between the airports using active temperature-controlled vehicles to preserve cold chain integrity. Furthermore, with ISL and IST's geographically strategic locations at the centre of international air cargo trade, Turkish Cargo provides a rapid connection between pharmaceutical manufacturers and consumers.
Globally, the cold chain is big business. According to information from Pharmaceutical Commerce, cold chain logistics for pharmaceuticals is a $12.6 billion worldwide industry. Furthermore, cold chain logistics for pharmaceuticals has an 8-9 percent per year growth rate. This lucrative market is attractive to logistics service providers, but temperature-sensitive pharma products like plasma, narcotics, and other perishables require special handling and care and require certifications by governing authorities.
Certified by Global Air Cargo Authorities
The pharmaceutical industry works under tight regulations, as does the air cargo industry, so having the correct certifications is mandatory for transporting pharma products by air. Consequently, all pharmaceutical transportation carried out by Turkish Cargo is certified by global air cargo authorities and thus hold the IATA CEIV certificate within cold chain integrity regulations.
IATA's CEIV pharma certification is one of the most significant indicators of Turkish Cargo's meticulous approach to pharmaceutical shipments. The accreditation also reinforces the airline's commitment to meeting the high standards set by the pharmaceutical industry. Plus, it assures legislators that the airline is proficient in handling delicate, temperature and time-critical consignments such as vaccines, precision healthcare devices, biotechnological products, diagnostic samples, organs, and tissues. The global air cargo brand also carries out its pharmaceutical transport operations in 40 stations that hold a QEP (Qualified Envirotainer Provider) certificate and ensures active temperature control between destinations that are thousands of kilometres away from each other.
Maintaining its operations in compliance with the global air cargo standards in 126 countries worldwide, Turkish Cargo offers active solutions for medicine consignments through its storage areas within the temperature range of -20/+25°C that meets high-quality standards along with temperature-controlled wide-body and cargo aircraft.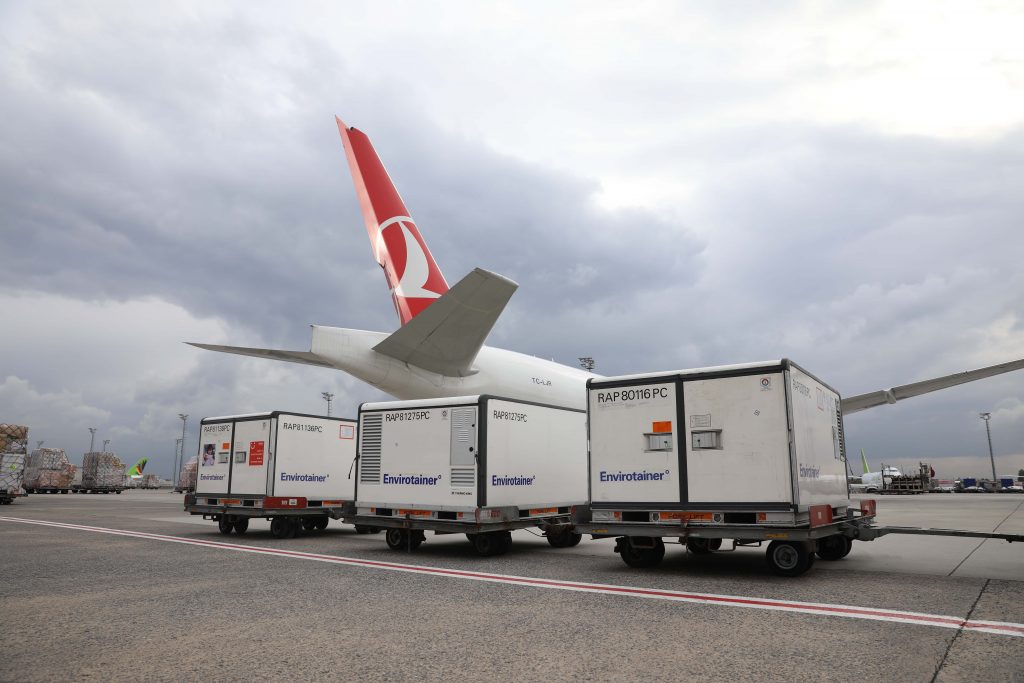 State-of-the-art Technology
All Turkish Cargo's Active Temperature-Controlled Containers utilize monitors to ensure consistent temperature and humidity levels through an online tracking system. The system also ensures that any temperature change that might be experienced during transport can be reported to customers, thus giving them extra peace of mind.
These innovative solutions allow the airline to store products with high sensitivity to temperature changes, such as vaccines, insulin, and anti-cancer drugs and preserve them at the conditions requested by its customers. What's more, this level of certainty is even possible during long-haul flights, thanks to Turkish Cargo's agreements with international container suppliers like Envirotainer, DoKaSch and, CSafe.
Another piece of active temperature-controlled equipment used by the airline is the Thermal Dolly. This storage device transfers time and temperature-sensitive cargo from temperature-controlled rooms in warehouses to air cargo ramps or vice versa. Thermal Dollies are also used for temporarily storing time and temperature-sensitive cargo during shipments with short connection periods, typically between 1-4 hours.
To add another layer of protection to pharmaceuticals, some clients may also want to utilize passive protection like the Single Use Thermal Cover, used for heat isolation. These covers are ideal for time and temperature-sensitive pharmaceutical products which require additional protection against the external environment.
Then, one more passive cold chain method perfect for the global transportation of clinical and pharmaceutical goods is the va-Q-tainer. This advanced passive container simplifies cargo handling in challenging environments by providing up to 120 hours of cold chain storage without the need to recharge or re-ice. Furthermore, by using exceptional Phase Change Material technology, the va-Q-tainer can maintain temperatures as low as -60°C without requiring dry ice.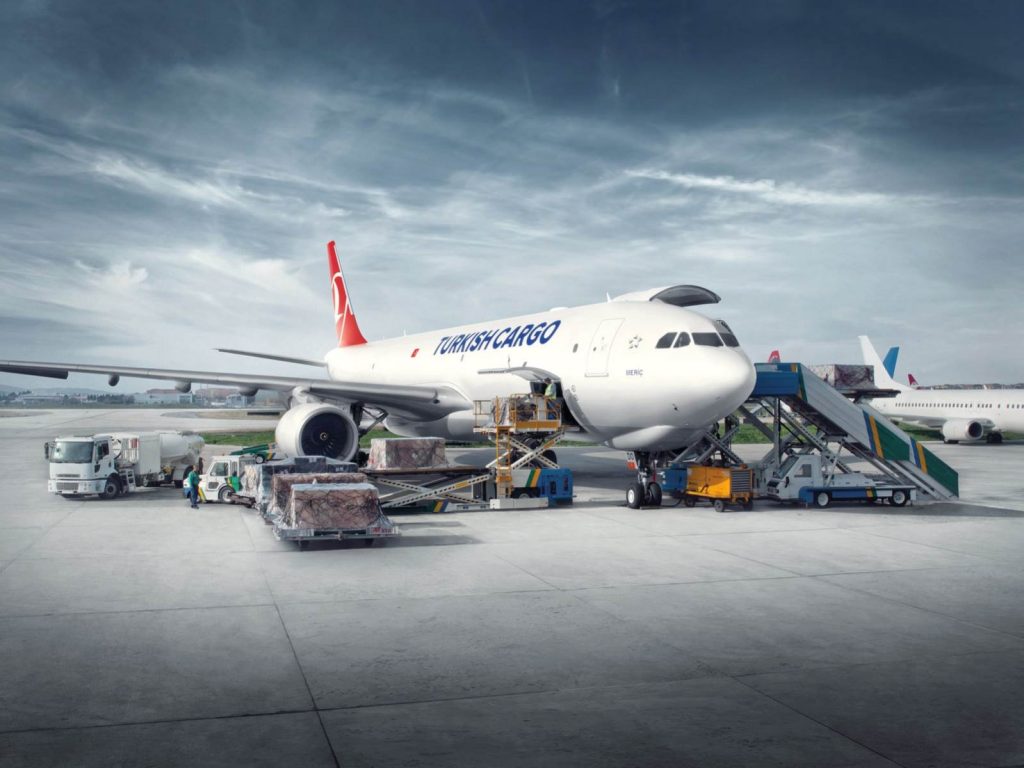 The Full Pharma Package
Over the last 12-18 months, it has become increasingly apparent that having a fast, reliable, and professional way to transport essential pharmaceuticals around the globe is fundamental to our modern lives. The solutions offered by Turkish Cargo have been paramount in helping economies worldwide recover from the COVID-19 pandemic, and thanks to its state-of-the-art technology, IATA CEIV certified hubs, and specialized team, the airline has carried health all around the world. As a matter of fact, Turkish Cargo has now delivered 100 million COVID-19 vaccine doses to more than 35 countries worldwide with its strong fleet, vast flight network, and excellent service quality.
อัพเดตข่าวสารและบทความที่น่าสนใจในอุตสาหกรรมโลจิสติกส์ก่อนใคร ผ่าน Line Official Account @Airfreight Logistics เพียงเพิ่มเราเป็นเพื่อน @Airfreight Logistics หรือคลิกที่นี่